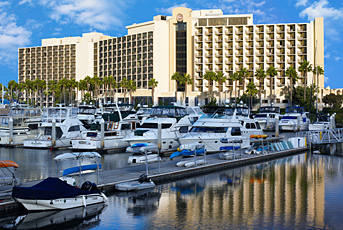 Are you heading to SHRM's Strategic Conference? If so, you must join us for our pre-conference workshop this year.
Our Lead With Your Customer program this year takes a look on the inside of three great companies and brands. Listed as one of the 100 great places to work by Fortune Magazine, Scripps Health is an outstanding health care provider that aligns employee recognition to patient satisfaction. You'll not only visit Scripps, but talk to senior staff about what they do to be one of the best medical centers in the country. Then it's off to Red Door Interactive, a hot and upcoming marketing firm in an ever-changing world. Also known as one of the best places to work in San Diego, this culture guarantees its employees to be "100% Jerk Free." And the beautiful Sheraton San Diego Hotel and Marina will take us behind the scenes to see what it takes to create a care-free Southern California stay for its guests. All this, plus great insights from scores of best-in-business greats and your peers will leave you with new ideas for taking your organization to the next level.
Sign up by visiting here. We definitely look forward to seeing you.