In a "carnival-style" retail shop at Disney California Adventure, I found this humorous play on the oft repeated phrase, "Quality Guaranteed."
"Quality Guaranteed" is such an overused statement. It usually is used as a gimmick to get you to go with doing business with an organization. Seldom is it really meant. If I found an exception, it would probably be doing business at L. L. Bean. Contrast that with a statement made in 1916: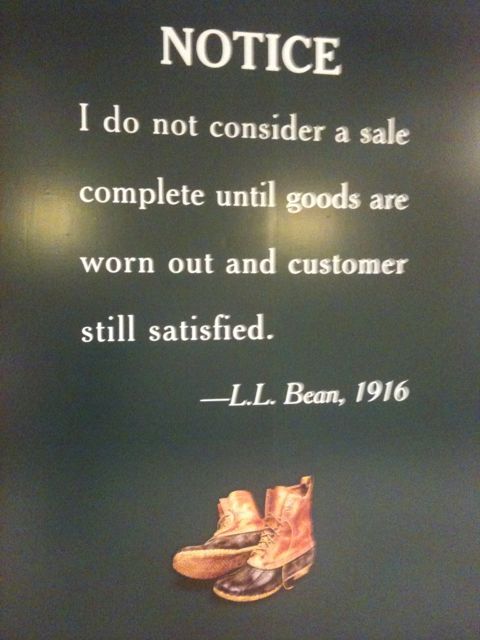 Mike Gawtry of L. L. Bean's Product Development group stated: "As a designer and developer, there is no gray area when it comes to a 100% customer satisfaction guarantee. It lets you say with confidence, "This has to work, and if it doesn't, the customer gets to bring it back."
What does that mean? Well for starters, it means that the relationship with the customer is more than some 30 day return policy. To get a sense of that, here's what one L. L. Bean customer shared:
"In 1968, my Dad broke an oar, so he called LL Bean to order a new one. The customer service lady said that LL Bean would send a new one at no cost. My father was a bit flustered and replied, 'No. No. You don't understand; I broke the oar. It was my fault.' To which the customer service lady responded sternly, 'Our oars don't break.' Amazed at the customer service, Dad thanked the lady and provided the address to send the new oar. From then on, whenever someone mentioned LL Bean, Dad piped up, 'Good company; can't beat'm.'  Needless to say, our home was well stocked with LL Bean products and my brother and I grew up wearing LL Bean from head to toe."
"Quality Guaranteed" is a promise. Promise what you can deliver. Better yet, over-deliver on what you guarantee. It will earn you a trust that will keep customers coming back to you.